When you share a document from OneDrive, expect to see a simplified user experience with fewer choices to make. The Sharing window will let you enter an email address or group name to share a file with, set if it's view only or edit, add a message. But the significant change is the scope of the sharing has shifted to the bottom of the window and if you want to change it, it is via the Settings cog. Is this simplified or is it minimizing important information and choices?
Viva Connections on mobile will start notifying you when news is published to your followed and frequent sites.
Microsoft Teams will work with the new Outlook "Work hours and location" setting and allow you to change it from your online status settings. Daniel and Darrell dive deeper in discussion that informs your decision-making and delivery of services to your organizations.
This week on the 365 Message Center Show
Daniel and Darrell cover:
– Stream Classic webpart retirement and new Stream (on SharePoint) webpart availability – MC561187
– OneDrive: Sharing Experiences – Improved external sharing in the sharing control – MC559250
– App User Interface update for Microsoft Whiteboard – MC559929
– Updates to Viva Connections desktop experience – MC559930
– Microsoft Viva Connections News Notifications – MC559932
– OneDrive: Simplified Sharing – MC560718
– Microsoft Teams: Set your Work Hours and Location – MC561188
Join Daniel Glenn and Darrell as a Service Webster as they cover the latest messages in the Microsoft 365 Message Center.
Check out Daniel and Darrell's own YouTube channels at:
Daniel – https://www.youtube.com/DanielGlenn
Darrell – https://www.youtube.com/modernworkmentor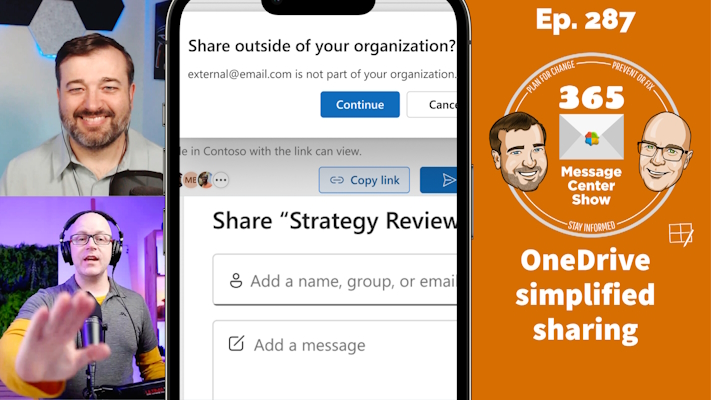 ---
Select a podcast app below to open our podcast on your favorite device!
Alternatively manually add our podcast via your favorite app:
https://www.messagecentershow.com/feed.xml
View ALL app options on our website: Get The Show
---