Let your team members know when you intend to work remotely or in the office. Outlook's new Work Hours and Location feature uses your Outlook work hours settings and your calendar. Set the days and hours you work, and whether you will work remotely or from home. If you need to change it during the week, adjust it in your calendar at the top of a day where All Day events are displayed.
Copilot's Semantic Index was announced as the mapping technology powering Copilot's relevant and actionable responses. But it will also enhance enterprise search results for E3 and E5 customers.
OneDrive sharing links become easier to manage with a new user interface that filters based on people, groups and what they can access. You can simply search for a person, see how they can access the file, and adjust the links as required.
This week on the 365 Message Center Show
Daniel and Darrell cover:
– Microsoft Syntex Image Tagger – MC551018
– SharePoint Syntex Per User License End of Sale Notice – MC551023
– Microsoft Teams: Together Mode Usability Improvements in Teams Meetings – MC551019
– Announcing the Semantic Index for Copilot – MC552633
– OneDrive: Sharing Experiences – Refreshed Manage Access – MC554155
– Outlook on the web – Work Hours and Location – MC553273
– A new experience to search within chat and channels. – MC554158
Sponsor: ESPC https://365mcs.com/ESPC
Join Daniel Glenn and Darrell as a Service Webster as they cover the latest messages in the Microsoft 365 Message Center.
Check out Daniel and Darrell's own YouTube channels at:
Daniel – https://www.youtube.com/DanielGlenn
Darrell – https://www.youtube.com/modernworkmentor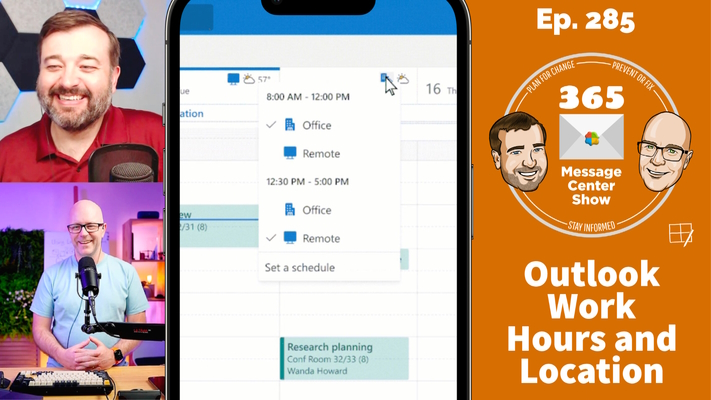 ---
Select a podcast app below to open our podcast on your favorite device!
Alternatively manually add our podcast via your favorite app:
https://www.messagecentershow.com/feed.xml
View ALL app options on our website: Get The Show
---