Configure multiple home sites to serve up a different home page and Viva Connections dashboard for different audiences. It has been a while coming. We first talked about it in episode 242. Daniel Glenn and Darrell Webster tell us more about it and its limitations.
Teams Collaborative Stageview will allow Teams to open content in a separate window and conversation alongside it in a sidebar. Apps will need to be developed to take advantage of this new form factor that emphasizes collaboration over conversation.
This week on the 365 Message Center Show
Daniel and Darrell cover:
– Microsoft Purview Communication Compliance empowers end users to report inappropriate messages in Microsoft Teams – MC555619
– Microsoft Teams: Collaborative Stageview – MC556150
– Microsoft To Do: Apple Watch app for To Do iOS – MC556155
– Teams Personal Tabs in Outlook for iOS – MC557822
– Create a distinct experience in Viva Connections for different audiences in the Microsoft 365 admin center – MC557823
Join Daniel Glenn and Darrell as a Service Webster as they cover the latest messages in the Microsoft 365 Message Center.
Check out Daniel and Darrell's own YouTube channels at:
Daniel – https://www.youtube.com/DanielGlenn
Darrell – https://www.youtube.com/modernworkmentor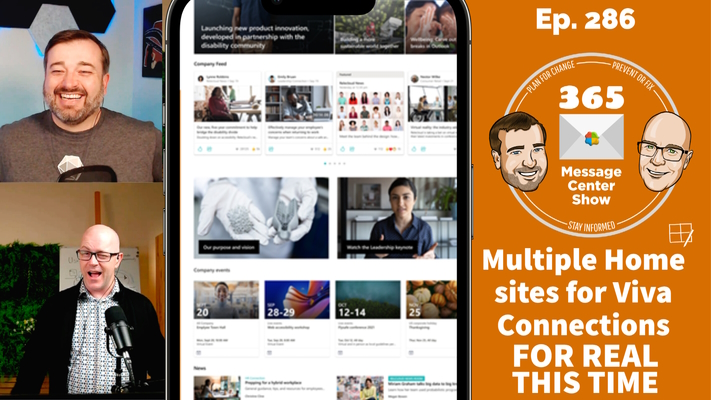 ---
Select a podcast app below to open our podcast on your favorite device!
Alternatively manually add our podcast via your favorite app:
https://www.messagecentershow.com/feed.xml
View ALL app options on our website: Get The Show
---