Clearly, we don't mean using Zoom inside a Teams meeting. But we do mean being able to zoom into shared content with more visible buttons to control zoom levels. We also discuss "nosie suppression" maintenance, and all about campaigns in Viva Engage.
This week on the 365 Message Center Show
Daniel and Darrell cover:
– Introducing zooming controls while viewing screenshare – MC564195
– Relocating Sync Command in OneDrive's My Files view to Settings – MC565161
– Answers-focused view in Viva Engage – MC565144
– Answers in Viva Information Panel – MC565146
– Handwriting Beautification and Ink Straightening for Microsoft Whiteboard – MC565166
– Microsoft Stream: Playlist View in SharePoint List Webpart – MC564196
– Microsoft OneDrive: PDF Annotation and Interactable Form Fields – MC565167
– Planned Maintenance: Nosie suppression in Stream will be down for limited time – MC567476
– Microsoft Viva: Campaign Hub, Search for Campaigns and Executive Sponsorship for Campaigns – MC567479
This week's sponsor: ESPC https://365mcs.com/ESPC
Join Daniel Glenn and Darrell as a Service Webster as they cover the latest messages in the Microsoft 365 Message Center.
Check out Daniel and Darrell's own YouTube channels at:
Daniel – https://www.youtube.com/DanielGlenn
Darrell – https://www.youtube.com/modernworkmentor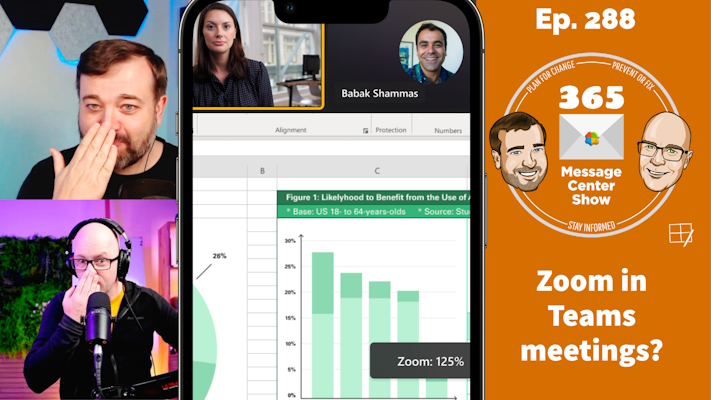 ---
Select a podcast app below to open our podcast on your favorite device!
Alternatively manually add our podcast via your favorite app:
https://www.messagecentershow.com/feed.xml
View ALL app options on our website: Get The Show
---